Overview & Examinations of Financial Planning Certifications
The "Certified Skilled Professional of Financial Planning" credential was added as one of the government certifications under the Human Resources Development Promotion Act in April 2002. There are three levels of the credentials (1st-grade, 2nd-grade and 3rd-grade) and each examination assesses candidafe's skills based on the certain government standards to assure one's competency. JAFP currently provides the following examinations; the practice-skill portion of the 1st-grade examination, and the knowledge-based & practice-skill portions of the 2nd and 3rd-grade examinations.

The major differences between Certified Skilled Professional of Financial Planning certifications and CFP® and AFP certifications are: 1) the candidates for CFP® and AFP certificants must complete the "ethics" and "education" requirements for prior to the certification is granted; and 2) meet the "continuing education" requirement for its renewal.
JAFP Certifications & Government Certifications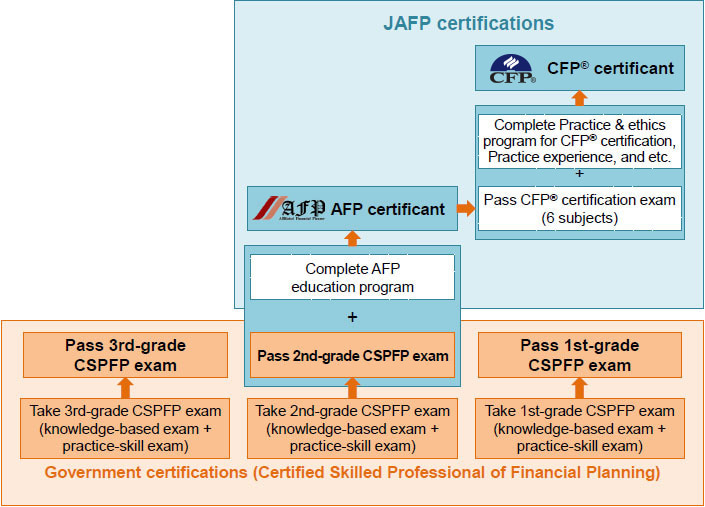 Examinations
CFP® Certification Examination
The 1st-grade Certified Skilled Professional of Financial Planning Exam
(Practice-skill portion)
Accreditation
body
JAFP
Government (Ministry of Health, Labor and Welfare)
Eligibility

1.

AFP certificants

2.

Those who completed CFP® education program at Masters level

1.

CFP® certificants

2.

Those who passed CFP® certification exam

3.

Those who passed Knowledge-based portion of the1st-grade CSPFP exam conducted by KINZAI (Kinzai Institute of Financial Affairs Inc.)

4.

Those who passed the 1st-grade CSPFP exam (both Knowledge-based and Practice-skill exams conducted by KINZAI)

5.

Those who completed the education program offered by KINZAI and have practice experience of more than one year

Subjects

1.

Financial Asset Planning

2.

Real Estate Investment Planning

3.

Life Planning & Retirement Planning

4.

Risk & Insurance

5.

Tax Planning

6.

Estate & Business Succession Planning(120 min./subject)

Practice-skill Exam in Financial Planning
Recommendations
(120 min.)
Formats
Multiple-choice
Essay format
Locations
16 cities in Japan
14 cities in Japan
Months
June, November
September
Fees
JPY5,500 / subject per Exam
JPY4,400 / 2 or more subjects per Exam
JPY20,000
The 2nd-grade Certified Skilled Professional of Financial Planning Exam
The 3rd-grade Certified Skilled Professional of Financial Planning Exam
Accreditation
body
Government (Ministry of Health, Labor and Welfare)
Government (Ministry of Health, Labor and Welfare)
Eligibility

1.

Those who completed AFP education program

2.

3rd-grade CSPFP

3.

Those who have practice experience of 2 years & more

Those who are (or will be) engaged in financial planning
Subjects

1.

Knowledge-based Exam (120 min.)

2.

Practice-skill Exam (90 min.)

1.

Knowledge-based Exam (120 min.)

2.

Practice-skill Exam (60 min.)

Formats

1.

Multiple-choice

2.

Essay format

Multiple-choice
Locations
47 prefectures throughout Japan
47 prefectures throughout Japan
Months
May, September, January
May, September, January
Fees